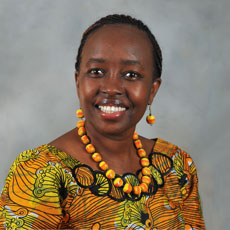 Executive Director, African Conservation Centre
Mrs. Lucy Waruingi is the Executive Director of the African Conservation Centre (ACC). She is the current Chairperson and a founding member of the Society for Conservation GIS, Kenyan Chapter and a member of the Society for Conservation Int'l Board of Directors. Lucy has a long-standing interest in management and interpretation of biological and environmental data for decision-making and informing initiatives that enhance local livelihoods in rich biodiversity areas. She is part of a regional effort in East Africa that is seeking to develop a framework for the mobilization of biodiversity information for the sustainable management of natural resources.
Lucy holds a BSc in Computer Science and Statistics and an MSc. in Geographic Information Systems (GIS).