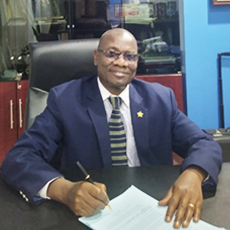 Founder, F.N Njanja and Company Advocates
Mr. Francis Njanja is the founder of F.N. Njanja and Company Advocates. He has over 20 years' experience in the profession and has expertise in Land Disputes and Environmental Matters, Criminal Litigation, Judicial Review, Commercial Litigations and Arbitrations, Private Prosecution, Constitutional Litigation and Arbitration. Besides legal practice, he is a lecturer in Law.
Mr. Njanja is a mentor in his own right. In his words, "I would like to be remembered as the counsel who mentored and trained the highest number of lawyers to become as good if not better than him."
He holds a Master of Laws and Bachelor of Laws. He is also a Certified Public Secretary (CPS).