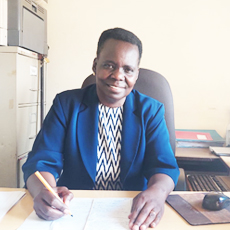 Lecturer, University of Nairobi
Dr. Karen Odhiambo is a Lecturer at the University of Nairobi's Department of Psychology and serves in the University Council as a Co-opted Member of the Human Resource Committee. She is a long-serving educationist. Her teaching profession spans four decades having been employed by the Teacher's Service Commission for six years before joining The University of Nairobi in 1992. She has a wealth of experience in Education Assessment in both Regular and Competency Based Learning settings, Programme Monitoring and Evaluation, and Organization and Behaviour Science.
Dr. Odhiambo is a astute scholar. She holds a Doctorate in Measurement and Evaluation, Master of Science in Education and Bachelor of Education. She has published widely in reputable journals and supervised Theses for many PhD and Masters' graduates.